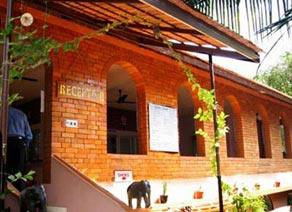 YOGA is the ancient spiritual practice adopted to keep the body & Soul in harmony with each other. Now this spiritual-mental practice is widely accepted by the world community to avoid stress & strain from their life.
Like Ayurveda, Kerala is the best natural place to practice Yoga. We present here the Best Yoga ashram in India for practicing yoga, which is located very close to the capital city of Kerala-Trivandrum.
India Destination Tours is happy to offer all help & assistance to undertake yoga in Sivananda Ashram at Neyyar dam in Kerala.
Based on your requirements you can decide the no of Days to practice yoga in this ashram and we can arrange your Accommodation and transfer facilities at your convenience.
For all help & assistance you can contact us at info@indiadestinationtours.com
Pl.find below a well detailed description about Sivananda Ashram which will guide you better.


The Sivananda Yoga Vedanta Dhanwantari Ashram

Sivananda Ashram is set in 12 acres of tropical splendor in the quiet foothills of Kerala's Western Ghats. The natural beauty of Neyyar Dam itself, the peaceful forested surroundings, the cool green coconut tree groves and colorful flower-filled views, all offer an ideal atmosphere for the practice of yoga and meditation.

The Ashram's program of classical yoga techniques, taught in a warm and friendly environment, helps to instill in guests a deep awareness of the spiritual essence of life.
The Ashram welcomes seekers of peace and happiness from all over the world irrespective of caste, creed, sex, religion or nationality. To immerse yourself fully in the Ashram life and partake of the yogic discipline and practices we request guests to remain within the Ashram premises as much as possible. The ashram has all necessary facilities.

The Ashram
The Ashram was originally a "Vaidyasala" - an ayurvedic clinic, built by the late Sri Gopala Vaidyar, locally known as Pooni Vaidyar. He was a well known ayurveda & siddha (two very ancient Indian healing systems) doctor of very high repute. He built all of the Ashram's older buildings and the Rajarajeswari temple.
Swamiji came in contact with Sri Gopala Vaidyar and visited him in Neyyar Dam in 1977. Swamiji bought the land and buildings and, on Sivaratri Day, 1978, inaugurated the Sivananda Yoga Vedanta Dhanwantari Ashram, where yoga & Vedanta are taught according to Swamiji's wish.

The Sivananda Institute of Health was inaugurated in November 1999. It serves to promote the theory and practise of Ayurveda. "Dhanwantari" appears in the name of the Ashram referring to the Lord of Ayurveda, which serves as a reminder of the origins and ongoing tradition of the Ashram - the classical Indian god of medicine, Dhanwantari is the physician of the gods, the promulgator of the Ayurveda.
Dhanwantari arose at the time of the churning of the ocean of milk, holding the cup of Amrita, the life giving elixir, he is also sometimes shown carrying the Jalooka (leech, used by Ayurvedic practitioners for blood letting) and the Vaishnava symbols Srichakra and Sank. To some he is really an incarnation of Lord Vishnu. Dhanwantari was also born a King of Benares, who brought medical science to the world.
In Indian historical tradition, around 400 BCE many great scientific developments occurred, and in the field of medicine (Ayurveda), sage Divodasa Dhanwantari (named for the god of Medicine) is considered a great surgeon who taught Ayurvedic surgery to Susrutha, the father of Ayurvedic survery. Here at the Ashram we offer the ancient complementary sciences of yoga and ayurveda as effective remedies to heal the problems of modern day life.
Supporting the Local Community
In the nearby village, there is a free nursery school for the children which has been run by the Ashram since its inception in 1979.
Temples
Apart from the worship of the Divine Mother Sri Rajarajeswari, Sage Agasthya (in the form of the Yogadanda), Sri Dakshinamurti and Sri Hanuman are worshipped near the main building area.
The openair temple for Lord Krishna was built in memory of the Mahasamadhi of Swami Sivasaranananda Mathaji - the Poorvashram mother of Swami Vishnu-devananda.
The ceiling in the Krishna Temple has an impressive mural of Krishna's 'vishwarupa' (cosmic form). Dakshinamurti and Hanuman Temples were installed in February 2001. The temples situated near the lakeside include Subramanya, Ayyappa, Ganesa, Sivalinga and Vanadurga.
ASHRAM ACCOMMODATION
The Ashram has a peaceful relaxing environment in which to practise yoga and interact with other spiritual seekers. Simply styled accommodation to suit all requirements is provided. Located among green lawns and colorful flowerbeds, each building stands separately, connected by garden paths, allowing guests to enjoy a feeling of spaciousness and calm.
ASHRAM RULES
The Ashram welcomes all seekers of peace irrespective of caste, creed, sex, religion or nationality
To maintain the pure atmosphere smoking, alcohol, non-prescription drugs, meat, fish, eggs, garlic or onion are forbidden in the Ashram.
The Ashram sustains a certain level of energy supported by the staff and guests. To maintain the flow of this energy for all, we ask that all guests and residents follow the schedule of events of our daily program. Attendance of all satsangs, asana classes, and lectures, is mandatory. Feel free to talk to any of the Yoga teachers or the resident Swamis to understand the philosophy and principles behind the practice. Please note that guests will be asked to leave the Ashram in case of repeated violation of the Ashram rules.
Apart from the weekly 'day off' guests are requested to remain in the ashram to assimilate the ashram lifestyle. Guests are expected to return for evening satsang on the 'day off'.
Modest Dress required, both sexes need to cover shoulders, knees and midriff at all times, including asana class.
To maintain continuity in the Ashram, three days' minimum stay is required, paid in advance. Please note there is no refund for stays less than three days.
Classes are only available to those staying at the Ashram.
Traditionally no payment is enforced for Yogic teachings. The Ashram is run on a charitable, nonprofit basis. The rates are minimum donations, to meet the ashram expenses and allow some development. We attempt to accommodate all sincere yoga aspirants. If you have financial hardship and would like to participate in the programs please contact the Director for special consideration.
Donations are per person and cover the cost of food, accommodation and classes. Donations for the courses may change without notice. Guests are subject to the donation rate in effect on the date of arrival. Visa, Mastercard, traveler's cheques, foreign hard currency and Indian Rupees (local currency) are accepted. No personal cheques are accepted. The Ashram does not provide traveler's cheque exchange, foreign currency, or cash advances on credit cards.
A travel agent will be available at the ashram weekly, providing a limited service for encashing Traveler's cheques and exchanging foreign currency.
No refunds can be given, credit notes will be issued instead and are valid for one year, at any International Sivananda Yoga Vedanta Center or Ashram.
Students leaving the course before completion are required to return all their teaching materials and uniforms.
Advance reservation is recommended for all the training courses. Please arrive on the day before the course starts, if possible.
Guests arriving a few days before a diploma course begins (TTC, ATTC, etc.) are expected to attend all Yoga Vacation scheduled classes and lectures, until their diploma course begins. Inclusive in the course donations, students can stay the night before the course starts, but additional nights accommodation are subject to the daily Yoga Vacation donation rates for accommodation.
Email and phone facilities are available during free time - depending upon the line conditions which is not under the Ashram's control. Your patience for our best efforts, is requested.
The Ashram is a charitable, nonprofit organization completely supported by dedicated volunteer Karma Yogis. Karma Yoga, service done with love and without selfish expectations, is an essential part of Yoga practice. Guests are invited to participate in karma yoga during their stay, for the benefit of the ashram, and other guests
WHAT TO BRING
Light comfortable clothing

Rain gear - raincoat or umbrella especially May to September

Toiletries and personal items

Shawl for cool evenings

Yoga mat

Towel

Meditation cushion

Flashlight with some batteries
DAILY SCHEDULE
This is our basic daily schedule. Times and activities may vary during special courses. Rituals and ceremonies, Indian dance and music programs, and other cultural events are scheduled throughout the year. Day trips to local temples and other points of interest are also arranged throughout the year.
Please note that attendance of satsangs and classes is mandatory.

5.30hrs Wake-up
6.00hrs Satsang (group meditation, chanting and talk)
7.30hrs Tea time
8.00hrs Asana class
(breathing exercises, postures and relaxation;separate classes for beginners and advanced)
10.00hrs Vegetarian meal (moderately spiced)
11.00hrs Lecture (talk on various aspects of yoga)
12.30hrs Karma Yoga (selfless service)
Karma Yoga, selfless service, is an essential part of yoga practice. The Ashram is run mainly by selfless volunteers and the guests are requested to do some service by helping out wherever it is needed.
13.30hrs Tea time
14.00hrs Coaching Class (optional)
16.00hrs Asana class
18.00hrs Vegetarian meal
20.00hrs Satsang (group meditation, chanting and talk)
22.30hrs Lights out
YOGA VACATION GENERAL INFORMATION (YV)
Yoga Vacation Programs start on the 1st and 15th of every month, and last for two weeks although you are welcome to stay longer. The program follows a structured format for the two weeks.
Beginners and advanced students are welcome. We teach a special asana program for beginners, starting with simple asanas and giving full instructions on all postures and breathing exercises, focusing on relaxation, posture and breathing. For more experienced guests who have practised some yoga before, even if not Sivananda style, an Intermediate/Advanced class is available where more advanced postures, longer holding, or variations are taught.
Five Points Yoga
These 5 principles constitute the essence of the teachings of the Sivananda Yoga Vedanta Centers.
To clarify the science of Yoga and make it accessible to the majority of seekers, Swami Vishnu-devananda extracted its essence and presented it in these universal principles for physical and mental health as well as spiritual growth.
1. Proper Exercise (Asanas)
Our physical body is meant to move and exercise. If our lifestyle does not provide natural motion of muscles and joints, then disease and great discomfort will ensue with time. Proper exercise should be pleasant to the practitioner while beneficial to the body, mind and spiritual life.
2. Proper Breathing (Pranayama)
Yoga teaches us how to use the lungs to their maximum capacity and how to control the breath. Proper breathing should be deep, slow and rhythmical. This increases vitality and mental clarity.
3. Proper Relaxation (Savasana)
Long before the invention of cars, planes, telephones, computers, freeways and other modern triggers of stress, the Rishis (sages or seers) and Yogis of yore devised very powerful techniques of deep relaxation. As a matter of fact, many modern stress-management and relaxation methods borrow heavily from this tradition. By relaxing deeply all the muscles the Yogi can thoroughly rejuvenate his nervous system and attain a deep sense of inner peace.
4. Proper Diet (Vegetarian)
Besides being responsible for building our physical body, the foods we eat profoundly affect our mind. For maximum body-mind efficiency and complete spiritual awareness, Yoga advocates a lacto-vegetarian diet. This is an integral part of the Yogic lifestyle.
5. Meditation (Dhyana)
Here is the most important point of all, we become what we think. Thus we should exert to entertain positive and creative thoughts as these will contribute to vibrant health and a peaceful, joyful mind. A positive outlook on life can be developed by learning and practicing the teachings of the philosophy of Vedanta. The mind will be brought under perfect control by regular practice of Dhyana.